Once a month I'll publish an interview with people who love puzzles, from colectors, artists, companies and stores.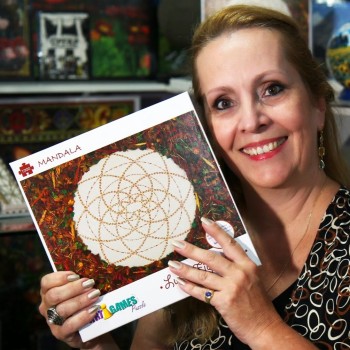 This column could not have a better beginning then with our dear Luiza Figueiredo, world record puzzle owner.
She has one of the best Facebook groups called PuzzleLovers, worth checking out for all puzzle fans.
Our meeting with Luiza happened on the Tuesday of Carnival and as lovers of jigsaws we talked for over two hours!

Puzzle Me: what is your first memory of puzzles?
Luiza: I have very few memories of my childhood, but I recall having a incredible feeling when I saw those small pieces all so very colorful!

Puzzle Me: What is the size of your collection?
Luiza: Today I have 1149 boxes (checking her impeccable catalogue with information's and pictures) I had a few others that arrived today, but as they are not yet catalogued they are not in the collection. Of these I have 680 completed.

Puzzle Me: When did you start you collection?
Luiza: I have to thank my mom, I always asked for one more. So, all my life, but I never imagined, didn't even plan on becoming a record holder, it simply happened.

Puzzle Me: Where do you buy your puzzles?
Luiza: On Ebay and used. Many times I visit garage sales and I'm able to find old imported puzzles for a great price.

Puzzle Me: What do you do with your completed puzzles?
Luiza: Before I was a record holder I assembled and disassembled them. After becoming one I leave all of the completed ones on my Dream room.
Obs: On the blog we have an article about the dream room, but let me warn you, if you like puzzles, you'll go nuts!

Puzzle Me: What are your favorite brands?
Luiza: Castorland, Piatnik e Heye

Puzzle Me: Do you start your puzzles from the edges, the middle or do you have a different method?
Luiza: I assemble them by the Luiza Figueiredo Method! I look at the image a single time and start through the middle and the edges happen naturally.
On the link bellow you'll find tips from Luiza for you to achieve success on your puzzles:

Puzzle Me: which puzzle do you like the most?
Luiza: One I got as a gift when I was 7 years old, the one with the dogs.
Also I love the Manhattan Island. It took me 2 years to buy that puzzle, but it only took me 10 days to assemble it with all the anxiety.

Puzzle Me: do you have any funny stories to tell?
Luiza: Many! Once when I received a puzzle, and since I only look at the image once I saw it was of horses, but once I started putting it together I saw the skies and the ocean, it has happened many times.
When glow in the dark puzzles came out I was super excited and after assembling one I called my daughter to show it to her, when she got into the room I lifted the puzzle to show her and she said she couldn't see anything, that's when I realized it had fallen to the ground, I had to start all over again.

Puzzle Me: Do you like minis?
Luiza: I love minis!

Puzzle Me: Have you ever ruined a puzzle?
Luiza: I have never, but the dog has reached some pieces.

Puzzle Me: Which is the biggest puzzle you've ever done?
Luiza: The current one I'm working on is 13200 pieces. I'm at the very end, but it's proving to be very hard.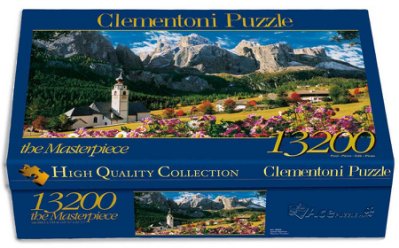 Puzzle Me: Have you ever put a puzzle on time out?
Luiza: Many, many!

Puzzle Me: Where do you assemble your puzzles?
Luiza: In the living room, at the dinner table or in front of the tv

Puzzle Me: Does anyone else builds puzzles with you?
Luiza: I have three daughters, the youngest doesn't like them, if she has put three pieces together in her life I'd be surprised, the oldest likes them, she sits down with me from time to time, but the middle one loves them and follows my method of building.

And like any good interview here's our quick game piece by piece:

Did you liked? Want to join?
Send me a e-mail! contato@puzzle-me.com.br

Hugs,
Petras