This month we spoke to Hailey, who is an eleven year old girl, full of good ideas and wants to change the world!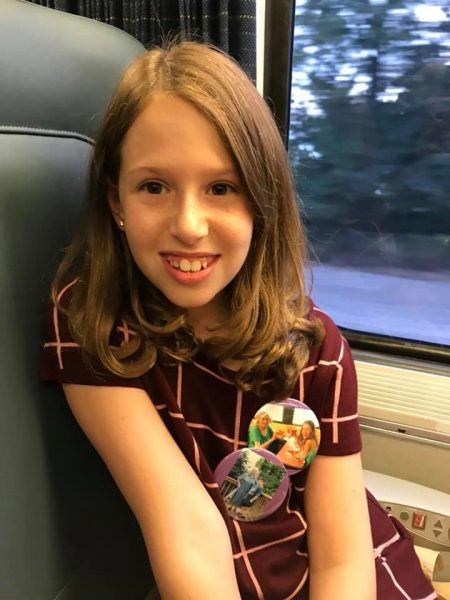 She created a program called Puzzle Time Program in a partnership with another organization called Puzzle To Remember. In both programs the inspiration was the same, people who suffer of Alzheimer.
The Puzzle Time Program was launched in September 2018 with the participation of 2 high schools in the city of New York.
Click here to know more
Puzzle To Remember however was created in 2008 by Max Wallack, that also validated the relaxing effects that puzzles have for Alzheimer patients.
Click here to know more
Two people full of love in their hearts and who share a pain.
The world definitely needs more people like you!
Take a look at our interview:
PM: How old are you? Where do you live?
HR: I am 11 years old and live in Long Island City, NY
PM: I read on your website that you started to solve puzzles with your grandmother, who has Alzheimer´s diseases. Could you tell me more about how that experience became the puzzle time program?
HR: I noticed that solving puzzles with my grandmother made her happy and it gave us an opportunity to have fun with each other.  We receive lots of donations of puzzles. The nursing homes need people to solve all those donated puzzles with the Alzheimer's patients. I realized that high school students have a lot of interest in volunteering their time. Sometimes they need to volunteer in order to graduate high school. So I realized that pairing a high school student with a senior for an hour of puzzle-solving is a great activity.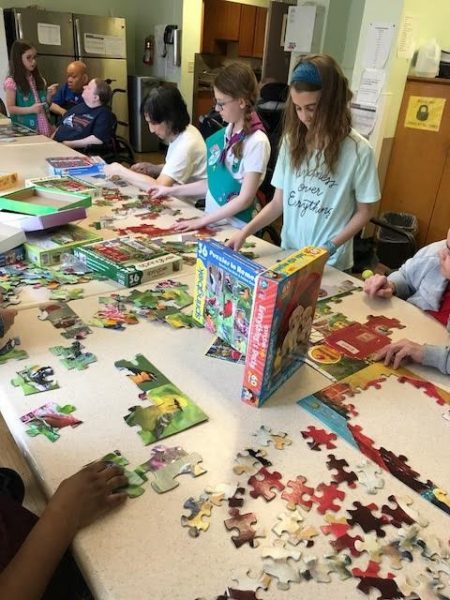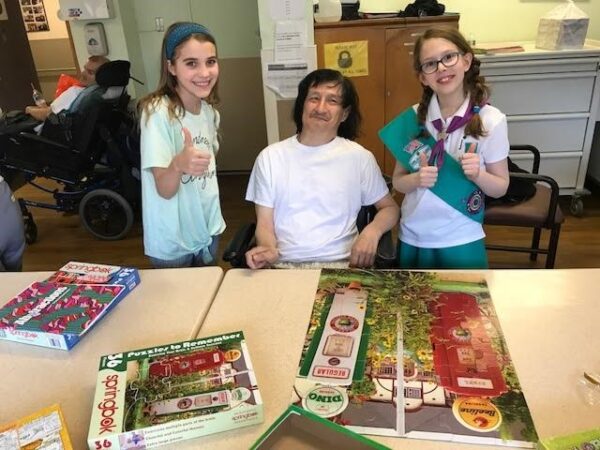 PM: What are the most challenging aspects, for people who have Alzheimer's disease, in doing a puzzle and what are your tips that you can give for someone who would like to start doing this activity with someone who has Alzheimer´s?
HR: It is very important that the correct amount of puzzles pieces are used when an Alzheimer's patient is solving puzzles.  Often with dementia can get frustrated if a puzzle is too difficult.  Alzheimer's patients depending on their level of impairment should work on puzzles with fewer pieces to avoid frustration. Patients who have moderate to severe AD, can be shown where to put a puzzle piece and simply enjoy the companionship.
PM: What did you see that made you realize that puzzles have a positive effect for those who have Alzheimer's?
HR: Many times Alzheimer's patients are bored. They sit and do nothing. Solving a puzzle gives them a sense of purpose, and a sense of accomplishment when the puzzle is completed.
PM: Is there any study that proves that puzzle assembling helps to slow the progression of Alzheimer´s diseases?
HR: There are several studies which show that jigsaw puzzle-solving is an excellent activity for cognition.
Here is a recent study:
https://www.ncbi.nlm.nih.gov/pmc/articles/PMC5588550/
https://jamanetwork.com/journals/jamaneurology/article-abstract/593101
https://www.ncbi.nlm.nih.gov/pubmed/9213065
Video – ZINC
Are you interested in being part of the program?
Get in touch with Hailey! Click here
Hugs,
Petras!